How to Choose the best Paint Protection Film (PPF) For Your Car
3M Scotchgard vs. XPEL PPF. Which One Offers the Best Paint Protection?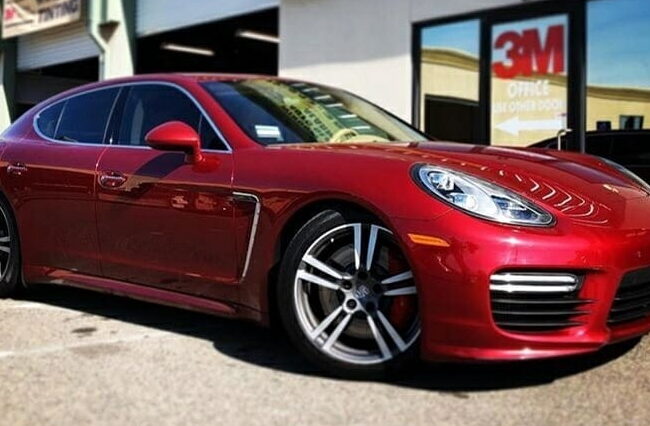 You finally bought the car you've always dreamed of owning.
But keep it safely tucked away in your garage to protect it from the outdoor elements. You can't leave it in there forever. You must take it for a drive and feel the power of that V8 engine.
Your best friend from high school, who you haven't seen in a year, has invited you to a party. He and his new bride have moved to Chico because of his job.
That voice inside your head says, what if an object hits the hood of my car and damages the paint? And there's no way we can drive to Chico and avoid being pummeled by all those bugs. They will smush their remains all over my grill and hood, and no matter how hard I try to remove them, some will remain.
Let Me Introduce You to PPF, Otherwise Known as Paint Protection Film.
PPF will help protect your vehicle against rock chips, scratches, and other debris, and it'll keep your car looking new. PPFs will also preserve your car's worth and increase its resale value.
There are several paint protection films on the market, so let's review two of the best films that are available
As far as Paint Protection Films go, XPEL and 3M are the leading brands known for clear bra protection. There are many similarities between them. However, being two different brands, there are several differences which we will now explore…
LET US REVIEW FIRST THE XPEL PAINT PROTECTION FILM
XPEL Paint Protection Films have been leading the way in paint protection for the past ten years.
XPEL is light years ahead of other films on the market today. Their innovative film doesn't turn yellow with age.
XPEL is also known for introducing the "World's first self-healing film." If you're not sure what that is, let me explain. Now here comes the unique part. When the film is scratched by, say, a key or gets marked by a marker pen or debris like a small rock, the surface will display visible damage to the film. HOWEVER, heat is applied to the damaged film (marked area) by either the sun's thermal rays, a heat gun, or even a glass of warm water. The underlying layers "rearrange" themselves on a particle level to dissipate the scratch. Doesn't that sound amazing?
Here's a short 2-minute video to demonstrate its amazing self-healing capability…
Now you are probably wondering how they will install that flat film onto my curved car without any ripples or creases.
XPEL has developed software with access to hundreds of vehicle templates to go with the XPEL Ultimate Plus films. Using templates for vehicles allows the expert installers at Quality Auto Glass Tint, Inc, to apply the film without any cutting on your exterior painted surface.
Now, no install is 100% flawless, but there is a big difference between a professional and one that does a quick and careless job. So, make sure you contact a professional paint protection installer like the ones we have available at Quality Auto Glass Tint, Inc.
CRITICAL FEATURES of XPEL PAINT PROTECTION FILMS
XPEL PROVIDES ULTIMATE INVISIBLE PROTECTION
One of many amazing things about XPEL PPF is that you might not be able to see that the Paint Protection Film is there, but you will undoubtedly notice the difference when you take your vehicle out on the road. No more bug splatter, bird droppings, or scratches.
At Quality Auto Glass Tint, Inc, we install two different XPEL Paint Protection Films
Paint Protection Film to Preserving a Flat Factory Finish.
XPEL Stealth paint protection film is formulated explicitly for preserving your vehicle's flat factory finish.
As smooth as satin. Or protect your gloss paint with a whole new look! Whether your vehicle is matte, magno, frozen, or frosted, self-healing XPEL STEALTH will keep it looking effortlessly pristine.
The self-healing and protective features of the XPEL STEALTH Satin Paint Protection Film are the same as the ULTIMATE. But the XPEL Stealth's design allows it to match the sheen of most factory matte paints. Keeping matte finishes in showroom condition is not easy, but XPEL STEALTH can transform your car's glossy paint into a sleek satin finish.
Your vehicle should permanently preserve its satin paint job, so if you're looking for a reversible, low-cost way to transform your car's appearance, the XPEL Stealth is the best film choice.
[sc name="quote"][/sc]
XPEL ULTIMATE PLUS raises the bar once again with an exceptional high gloss finish and improved impact protection for enhanced durability, making it the most advanced paint protection film on the market.
High-performance, ultra-thick, self-adhesive, clear-coated aliphatic polyurethane film is designed to protect automotive paint and other surfaces from the damaging effects of stone chips and abrasion.
A very low surface energy film designed to resist staining and offers superior environmental resistance and gloss retention. The clear coat employs special elastomeric polymers that allow scratches on the surface to "heal" over time, eliminating the need for frequent polishing to maintain a just-installed appearance.
It is coated with ultra-clear high-performance acrylic adhesive, which has excellent adhesion on a broad range of surfaces while resisting disturbances during installation. This high-performance acrylic adhesive is formulated to resist delamination. It will not damage paint or leave behind residue upon removal post-installation.
AMAZING SELF-HEALING PROPERTIES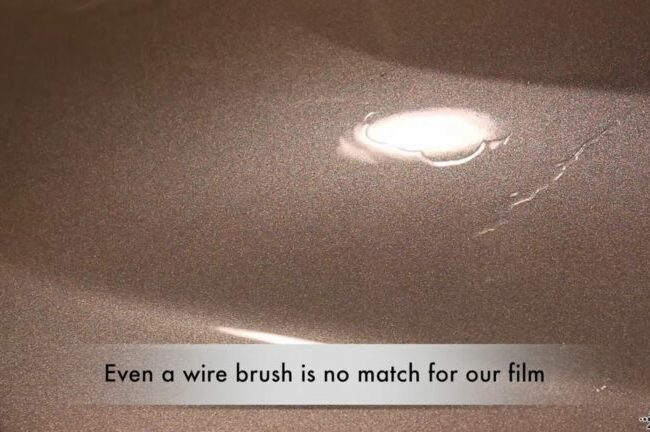 3M films are good, but they're still not as good as XPEL Films. Even though 3M was the first in Paint Protection Films, XPEL is still more famous for developing the first self-healing film. This means if it gets scratched, you only need to park your vehicle in the sun or pour on warm water, and the scratched surface will look as good as new in about 30 mins.
XPEL PAINT PROTECTION WARRANTY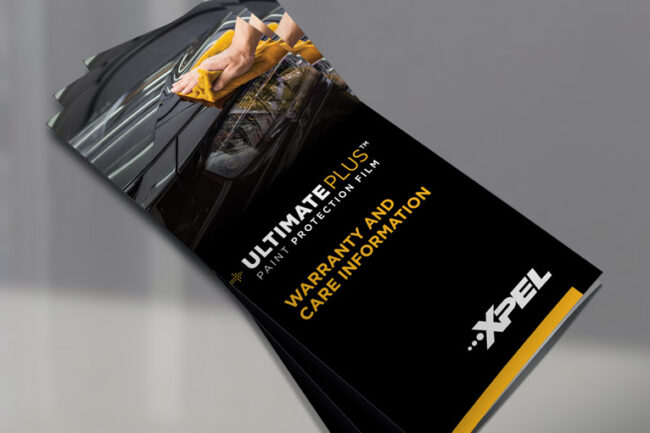 The 10-year guarantee in XPEL PPFs ensures you that your car's paint is protected for years. Your paint should keep its luster for many years down the road.
LET US NOW REVIEW 3M PAINT PROTECTION FILM
Being the granddaddy of paint protection films, 3M has the reputation of one of the industry's best.
3M Paint Protection Film is the choice of new car manufacturers worldwide and NASCAR. 3M doesn't have as many PPF choices as XPEL does, but they're pretty good at what they do.
3M Scotchgard Paint Protection Film: This PPF or Clear Bra offers excellent quality and performance. What's more, 3 M's Scotchgard also provides impressive clarity and good scratch and stain resistance.
3M Scotchgard warranty only offers a seven-year warranty after installation. While both XPEL and 3M warranties are pretty promising, buyers prefer XPEL over 3M due to this significant factor.
Another significant difference between the XPEL Paint Protection Films and the 3M Scotchgard is the price you will pay. While both products are pretty high-end, you might have to spend a little more money if you select the XPEL PPFs. XPEL is the best-in-class and therefore worth the extra money.
3M vs. XPEL PPF. Which One Offers the Best Paint Protection?
CONCLUSION: –
The only significant difference between XPEL and 3M lies in the better self-healing properties that XPEL Ultimate Plus offers. Therefore, both are great options when you want a film that gives you higher performance protection, a crystal-clear finish after installation, and longevity.
XPEL is an exceptionally clear, invisible, or transparent film, while 3M will fade and yellow over time.
3M films, when discolored, will be very noticeable on your car.
On the other hand, XPEL is nearly invisible.
XPEL is self-healing, while old 3M will scratch easily.
The topcoat on XPEL will self-heal minor swirls and imperfections in the sun.
3M does not have a topcoat.
XPEL is thick and provides a 10-year manufacturer's warranty.
3M films can yellow and fade within a year.
Of course, if you abuse the film or don't maintain it well, it will deteriorate quicker. But on the other hand, if you do protect the film, you may see it continue to perform well beyond the life of the warranty. All that to say, all these films have longevity to them.
If you've conducted any research, which I'm sure you will do on Paint Protection Film, I'm sure your search will take you to forums, and you've probably come across people who are crazy about their XPEL paint protection, rightfully so. What more is there to say? Except…
You can't go wrong if you're deciding between XPEL or 3M. You can go wrong if you choose to go with another brand. But you are safe with one of these two brands.
Here at Quality Auto Glass Tint, Inc, we are happy to answer any questions you may have about installing or applying paint protection or ceramic pro.
You drive an expensive car. Please protect it from the elements with one of the finest paint protection films available on the market.
Have the peace of mind of knowing your car has the best protection you'll never see.
We look forward to answering your questions and seeing you soon at either our Roseville or Modesto location.
[sc name="quote"][/sc]